Junctionites attend thought leadership session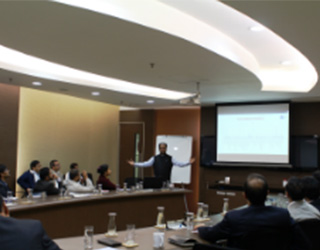 Dr Srinivas Padmanabhuni, a prolific and astute researcher in the space of data sciences, addressed a select group of cross-functional junctionites at a thought leadership session on January 5, 2017. The CEO Mr Vinaya Varma also attended the session, which began with Dr Padmanabhuni's presentation on "Artificial Intelligence and Machine Learning." He touched and deliberated upon recent trends in both and then went on to their applications – using Artificial Intelligence to develop real-time dynamic supply chains and applying Machine Learning for optimal matching of buyers and sellers in exchanges.
The latter part of the session saw junctionites presenting sessions on "Fraud Detection using Analytics," "Supplier Index" and "Customer Behaviour Insights using Analytics."
Dr Padmanabhuni is an alumnus of IIT Kanpur and Mumbai, and has vast experience of over 15 years in the IT industry. He has published over 70 academic journals and papers and has seven granted patents in his name.